Joy of Plants help Seiont promote new plants
"It's a win-win for all parties"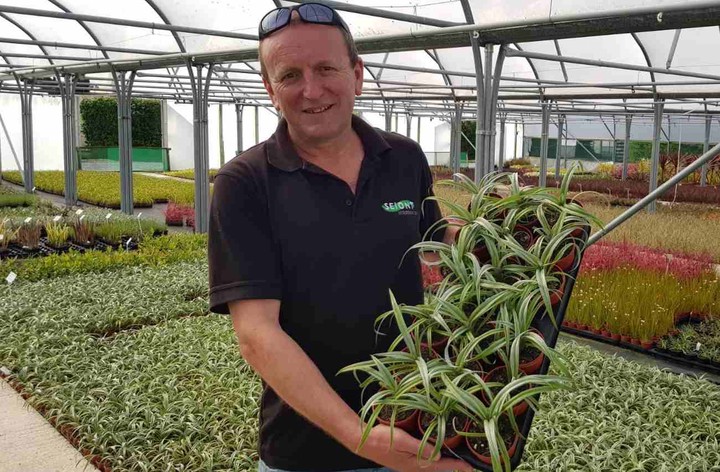 Neil Alcock, Managing Director at Seiont Nurseries Ltd. in Caernarfon, Gwynedd with some of the plants featuring on the Joy of Plants' 'PlantShare' library.
Press Release
Jul 25, 2021
THE UK's leading plug and liner supplier has this month (July 2021) partnered with a plant information company to offer its customers a library of images for webshops and websites.
Seiont Nurseries has been looking at ways to help garden centres promote new plants via their webshops and websites, and now contributes to Berkshire-based Joy of Plants' 'PlantShare' library.
Neil Alcock, Managing Director at Seiont Nurseries Ltd in Caernarfon, Gwynedd, said: "For many years we have been working with leading breeders and agents to bring their new plants to market. There hasn't been an easy way for us to help garden centres promote those new plants in store, and now that a digital presence is so important, via their websites and webshops. We were looking for a way to feed images and information about new plants from the breeders and agents we work with through to the garden centres.
"By collaborating with Joy of Plants on their 'PlantShare' library, we are giving garden centres an easy way to promote our new plants via an image library that they can all use for webshops and websites.
"Joy of Plants helps breeders and agents by selecting appealing images and adding copyright protection to them, by making sure that plant names are correct and plant information is of the highest quality. And, by making the images and information available via their services, Joy of Plants vastly reduces both the time spent by breeders and agents in sending information out to garden centres, and the time spent by retailers adding that information to their websites and webshops. It's a win-win for all parties.
"Our new plants include fantastic new varieties like Berberis thungerbii 'Orange Ice' from Breeder Plants, Buddleja 'Grand Cascade' from Walters Gardens Inc (c/o Botanics International), Heuchera vilosa Frilly 'Alchefril' from Genesis Plant Marketing Ltd, Escallonia 'Good as Gold' from Peter Moore, Weigela Picobella Rosa 'Tvp2' from Plantipp, Geum Tempo™ Rose 'Tngeutre' from Terra Nova Inc, Chionochloa falvicans 'Taupo Lights' from van Vliet New Plants, and Perovskia 'Crazy Blue' from Walter Blom Plants BV.
"We are delighted to be collaborating with Joy of Plants. Their services give customers a quick and easy way to add new plants to their webshops and websites, all customised to match our customers' own branding."
Joy of Plants' mission is to make plant information easy and accessible to all. It has created a library of more than 15,000 UK garden plants and trees and offers a platform of tools to help garden centres, retailers and growers maximise their plant sales. It provides information in many forms including an Image and Text Library for ecommerce sites, Plant Finder for websites and Touchscreen Kiosks, Bed Cards and Apps.
Terri Jones, Managing Director at Joy of Plants, explained: "We're thrilled to be working with Seiont Nurseries and the breeders and agents it works with to offer our plant information services to their customers.
"Our Image and Text Library makes it quick and easy to add high quality images of new plants to webshops based on WooCommerce, Shopify or Bluepark and our Plant Finder can be added to almost any website.
"We've created a 'new plants' group in our Plant Finder to highlight all the new plants to garden centre customers and staff, which will help to generate demand."
For further details about Joy of Plants, please call 07717 532323, visit www.joyofplants.com, or follow the company on Twitter at www.twitter.com/JoyofPlants or on LinkedIn via www.linkedin.com/company/joy-of-plants
For further media details, please contact Porcupine PR on 01278 446801 or email ellie@porcupinepr.co.uk
For Seiont Nurseries visit www.seiontnurseries.com or call 01286 676418. You can also follow the company via www.linkedin.com/company/seiont-nurseries-ltd/ www.facebook.com/seiontnurseriesltd/ and twitter.com/seiontnurseries
ENDS
Notes to editors:
Seiont Nurseries Ltd was established in 1978 and is a well-known wholesale plant supplier with annual production of 1,200,000 liners and 600,000 plugs.
New and unusual varieties are its speciality and it ships these across the UK and Europe via a weekly delivery service. The nurseries pride themselves in providing a top-quality product and service to customers of all sizes.