HTA Awards – New Plants launched
Entrants launched via Touchscreen Kiosks to retailers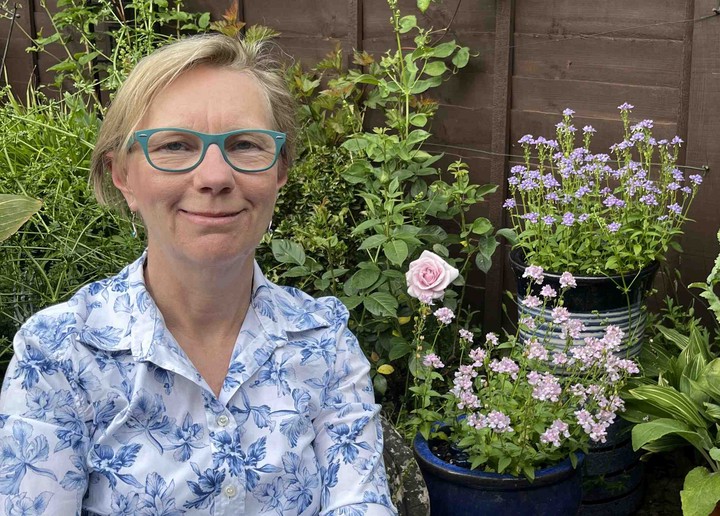 Terri Jones, MD of Joy of Plants, with Rosa 'Hopes and Dreams' from the New Plant Awards 2022 and Nemesia 'Melody' varieties.
Press Release
Jun 14, 2023
This year, for the first-time, entrants for the New Plant Awards at the HTA National Plant Show have already been added to the Joy of Plants' PlantShare Library.
Retailers around the country can see these plants' photos and details on their Touchscreen Kiosks and websites now.
Terri Jones, Managing Director at Joy of Plants, who is sponsoring the New Plant Awards, said: "This year, the HTA, along with growers and breeders, have made it possible for us to add the new plants to our Library in advance of the awards. This is fantastic progress. It means that visitors to our stand, #50, at the Show can see how we instantly support such new plants via Touchscreen Kiosks, Bed Cards, Websites and Webshops.
"This is a real step forward in supplying plant information in a sustainable and cost-effective way to retailers. Retail staff can find out all about the new plants, quickly and easily, to answer consumer questions about them. Bed Cards, the 'silent salesforce', can be printed on demand as needed, branded to the retailer's own livery. Webshops can be populated with the new plants with the minimum fuss. And growers and breeders can be sure that the correct images and data are being used to sell their plants.
"The awards themselves provide a valuable role in raising awareness of new plants in the trade, and giving breeders and growers the critical feedback they need from judges and visitors alike."
Joy of Plants' mission is to make plant information easy and accessible to all. It has created a library of more than 15,800 UK garden plants and trees and offers a platform of tools to help garden centres, retailers, growers and breeders maximise their plant sales and income.
It provides this information in many products including an Image and Text Library for ecommerce sites, a Plant Finder for websites and plant area Touchscreen Kiosks, and an on-demand Bed Card printing service.
Terri continued: "The National Plant Show provides a fantastic opportunity to see the best new plants coming from growers all over the UK and to meet the people who bring them to us. But if you can't make it to the show, you can catch up with the new plants via the 'New plants for 2024' group we will add to the Plant Finders on leading retailers' websites – Blue Diamond, Klondyke, Capital Gardens, Haskins, Tong, Bents, Perrywood, Aylett Nurseries, to name but a few.
"I'd like to thank all the wonderful breeders and growers who've made it possible for us to add their plants to our Library, including Wyevale Nurseries, Seiont Nurseries, Whartons Roses, Bransford Webbs, New Leaf Plants, Newey Ltd, Frank P Matthews, Ball Horicultural, Plant World, Plantipp BV, Javado, Raymond Evison Clematis and many others. They enter plant data once, and our retail tools then help every retailer sell their plants.
"I can't wait to see all their new varieties in real life. Fortunately, Joy of Plants is on Stand 50 close to the New Plant Awards, so if I'm not on our stand you'll know where to find me!"
For further details about Joy of Plants, which is based in Twyford, Berkshire, please call 07717 532323, visit www.joyofplants.com, or follow the company on Twitter at www.twitter.com/JoyofPlants or on LinkedIn via www.linkedin.com/company/joy-of-plants.
For further media details, please contact Porcupine PR on 01278 446801 or email andy@porcupinepr.co.uk
ENDS