James McIntyre add Plant Info
Soft fruits supplier teams up with Joy of Plants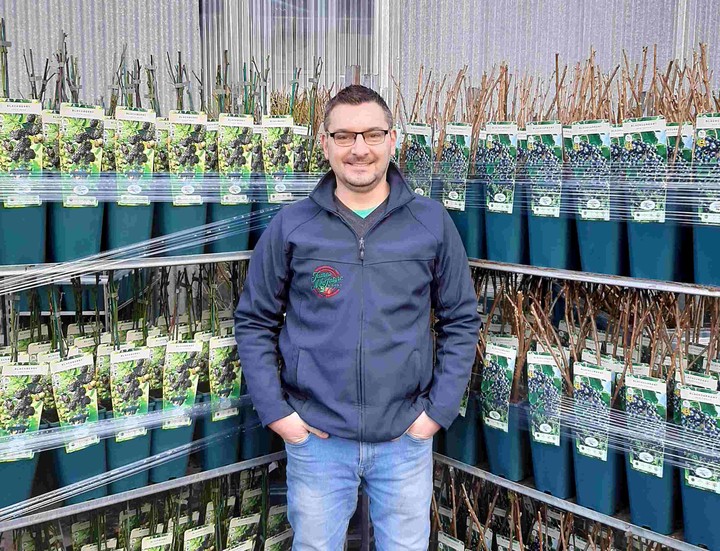 Stuart McIntyre, Partner at James McIntyre & Sons in Perthshire.
Press Release
November 7, 2023
ONE OF THE UK's leading growers of soft fruit plants has joined the Joy of Plants' 'PlantShare' library.
James McIntyre & Sons in Blairgowrie, Perthshire, Scotland, has signed up to be part of the platform to help their customers promote and support its plant range to consumers, via online and in-store information.
Stuart McIntyre, Partner at James McIntyre & Sons, says: "We are delighted to have teamed up with Joy of Plants and have our products available on their platform. We hope it will help inspire people to grow their own soft fruit. Easy to grow and a great way to save money, there is nothing more satisfying than picking and eating fruit straight from the garden."
The family-run firm has specialised in growing soft fruit in Scotland for more than 60 years. It produces more than a million raspberry canes every year on 60 acres of ground in the beautiful Strathmore valley in Perthshire.
On its nursery, the team also grow a large range of other soft fruit such as blueberries, blackberries, cranberries, redcurrants and strawberries. Five members of the family are actively involved in the business, as well as fifteen full-time staff and more than thirty part-time members of the team who help out at peak times of the year.
Amanda Barber, Library Manager at Joy of Plants says: "We are excited to be working with James McIntyre & Sons to showcase its extensive range of soft fruit. The team is truly passionate about growing your own and there are some excellent varieties to choose from. I particularly love the patio raspberries, which work really well in pots and are just perfect for small spaces.
"Our 'PlantShare' library and information services provide an easy way for James McIntyre & Sons to give new gardeners and retail staff information about their soft fruit plants and the care products to use to help them be productive and thrive.
"Our Plant Finder Touchscreen kiosks bring information about all the soft fruit plants into stores, so that staff can help consumers choose exactly the right soft fruit plant for them, and our Bed Cards inform browsing shoppers. Our Image and Text Library also makes it quick and easy to add high quality images of these plants to webshops based on WooCommerce, Shopify or Bluepark."
Founded in 2011, Joy of Plants' mission is to make plant information easy and accessible to all. It has created a library of more than 16,000 UK garden plants and trees, each with detailed info, attractive photos and sales-oriented descriptions.
It provides this plant info in a variety of Sales tools including a Plant Finder for websites and in‑store Touchscreen Kiosks, an Image and Text Library for ecommerce sites, and print‑on‑demand Bed Cards, to help garden centres, retailers and growers maximise their plant sales.
For further details about Joy of Plants, which is based in Twyford, Berkshire, please call 07717 532323, visit www.joyofplants.com, or follow the company on Twitter at www.twitter.com/JoyofPlants or on LinkedIn via www.linkedin.com/company/joy-of-plants
For further media details, please contact Porcupine PR on 01278 446801 or email andy@porcupinepr.co.uk
ENDS