Bransford Webbs 'jumps at chance' to work with Joy of Plants
Offers images to retailers via 'PlantShare' library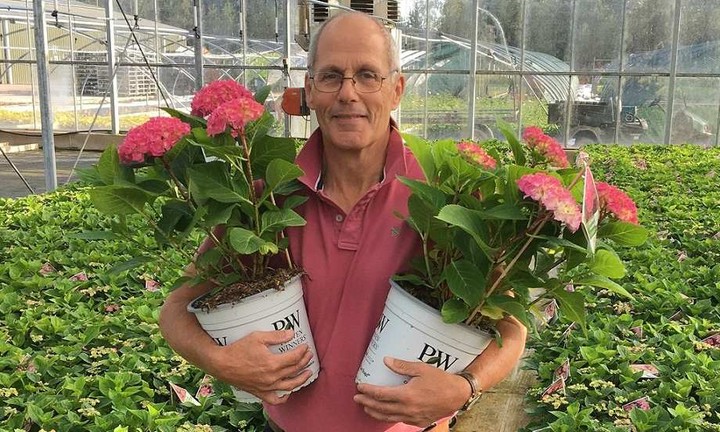 Adrian Marskell, Managing Director at Bransford Webbs Plant Company in Worcester with some of the plants featuring in the Joy of Plants' 'PlantShare' library
Press Release
Aug 5, 2021
BRANSFORD Webbs says the nation's new gardeners, hungry for plant information, have fuelled a partnership with Joy of Plants to offer customers an image library for their webshops and websites.
The leading UK grower of ornamental plants now contributes to Berkshire-based Joy of Plants' 'PlantShare' library to help customers promote and support its plant range via online and in-store information.
Adrian Marskell, Managing Director at The Bransford Webbs Plant Company in Worcester, said: "When the opportunity came to work with Joy of Plants we jumped at it. The chance to promote our plants through the many mediums it offers was too good to miss.
"Since the onset of COVID, there have been many new gardeners entering the market who are hungry for plant information, and Joy of Plants fills that gap."
Joy of Plants' mission is to make plant information easy and accessible to all. It has created a library of more than 15,100 UK garden plants and trees and offers a platform of tools to help garden centres, retailers and growers maximise their plant sales. It provides information in many forms including an Image and Text Library for ecommerce sites, Plant Finder for websites and Touchscreen Kiosks, Bed Cards and Apps.
Terri Jones, Managing Director at Joy of Plants, explained: "We're thrilled to be working with Bransford Webbs and the breeders and agents it works with to offer our plant information services to their customers.
"Our Image and Text Library makes it quick and easy to add high quality images of new plants to webshops based on WooCommerce, Shopify or Bluepark and our Plant Finder can be added to almost any website. Our Bed Card printing tool and Plant Finder Kiosks can help customers in-store.
"With the huge number of new gardeners in the country, the need for plant information has grown. With our 'PlantShare' library and services we're helping growers and retailers by providing an easy way for them to give new gardeners and retail staff information about their plants, plus the Care Products to use to help them thrive."
For further details about Joy of Plants, please call 07717 532323, visit www.joyofplants.com, or follow the company on Twitter at www.twitter.com/JoyofPlants or on LinkedIn via www.linkedin.com/company/joy-of-plants
For further media details, please contact Porcupine PR on 01278 446801 or email rachel@porcupinepr.co.uk
For The Bransford Webbs Plant Company visit www.bransfordwebbs.co.uk or call 01886 833733
ENDS
Notes to editors:
The Bransford Webbs Plant Company is one of the UK's leading innovative nurseries, supplying new and sought-after plants. Operating from a nine-hectare site in Worcestershire, The Bransford Webbs Plant Company produces more than 1.7 million plants per year and supplies garden centres across the UK.
The nursery consists of 59,000m² of protected growing area with further space dedicated to outdoor beds. It propagates around half of its plants on site.
The Bransford Webbs Plant Company supplies more than 550 different garden centre sites, across a range of independent centres and garden centre groups.